My fortunes continue to decline. The SS Bad Diplomat lies at the bottom of an icy bay, quite beyond hope of recovery, and I find myself stranded in this most inhospitable, barren snow-covered land.
The night of my arrival, I had anchored offshore in a deep inviting cove, noting some ice floes, but nothing threatening. I had decided to attempt landfall the next day and prepared gear for the journey, and luckily set it on deck. As I retired I saw nothing nearby save some penguins gathered at the shore, busy with their own fishing efforts, a most serene scene.
Late in the evening I was awoken by a sharp crash or bang, sounding as if I was under fire from another vessel, the ship rocked and shuddered, and a breach below waterline was evidenced by the sound of rushing water and, as I arose, a cold splash at my feet, climbing higher by moment.
As the vessel listed, I clamored up from the cabin through the hold, the rising water at my heels. At the deck I had the forsight to gather my pack and survey the horizon for an attacker- I saw naught but a dark horizon to sea, and a nearby floe to lee. As I jumped to the water the icy knives of its coldness burned and nearly numbed me to the core. Luckily it was but a short distance to a large floe, and I was able to hoist myself easily onto this and rest. The screams of excited penguins seemed to fill the air, disturbed by the noise and excitement of my swim, I suspect.
As I donned my warm leathers from my pack, drying myself as I could, I packed my woolen clothes, and I watched the Ship descend beneath the waves. Oddly, I saw what I thought to be licks of flame and steam rise up from the hold before she finally went under. I had no explanation for this, and it continues to trouble me.
Resigned to my new fate, after a short rest and nibble of salted fish, I set out to seek some sort of shelter. The penguins seemed to have disappeared in the darkness, but I kept my gun at the ready for larger beasts that might be roaming. I found the floe to be near enough to others to jump from one to another to reach a peninsula of solid ground, and made my way inland.
Having been unable to find this land on my charts the previous afternoon, I had decided to lay claim in the name of the Grand Republic, and had prepared a standard for this purpose. I decided this was as good as time as any, as I was not weary, my energy having returned. I found a suitable promontory and dubbed this land Pierceland, in honor of our Commander in Chief, President Franklin Pierce.
The night kept me from discerning the size of the island or land. Yet, seeing a number of ridges, I perceived it as larger than I originally thought it to be, so I held hope for finding some rocky shelter. At first I found none. Then, after some searching, over one rise I spotted a perfect shelter. Relieved at this good fortune, I proceeded warily to it.
I found this natural ice-cave as the snow began to fall around me. In the distance I detected a long trail against the stars, and hoped for a moment that it may be evidence of a distant fire, but it passed with the clouds. As the snowflakes increased, I made for the shelter, rifle at the ready, prepared for any manner of beast.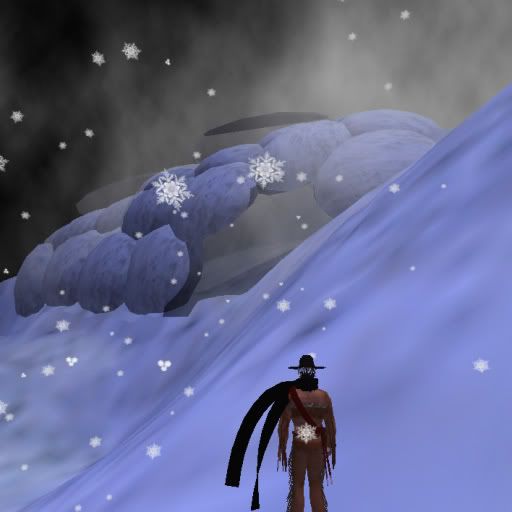 Luckily, this cave was deserted. I quickly unrolled my bedroll and set about making a fire, which came quite easily thanks to some paraffin-treated matches I had with. Drowsiness came quickly, and I left it tommorow to ponder my fate. Warming, off to sleep I went, to wait out this storm, my shotgun resting beside me at the ready.